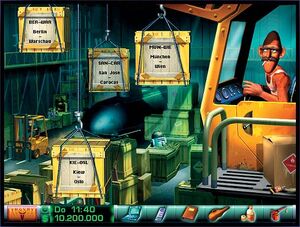 The cargo office (also known as the Freight Center) is located in the leftmost part of the airport, next to the museum on the lower or ground level of the airport. Its shortcut key is: H and is always open except on missions before the cargo feature is introduced.
This is the only place where cargo orders can be taken except in Airline Tycoon Deluxe in which branches can be contacted for cargo orders. Mouse over a crate for details about its cargo order, and click on it to accept it.
Airline Tycoon 2 does not have cargo transport without the honey airlines addon.
Ad blocker interference detected!
Wikia is a free-to-use site that makes money from advertising. We have a modified experience for viewers using ad blockers

Wikia is not accessible if you've made further modifications. Remove the custom ad blocker rule(s) and the page will load as expected.